We're proud to be associated with Reinke Manufacturing – an independent company that cares more about producing great irrigation systems than returning dividends to stockholders. All Reinke irrigation systems use high-strength steel for the best value in center pivots. Please contact us for Reinke irrigation systems and components.
To learn more about Reinke
click here.
To access the Pivot Parts catalog, click
HERE.
Drip Irrigation

We are distributors for Rivulis Irrigation offering a full line of irrigation products, included our most popular disposable drip tape, T-Tape.
Click here for Rivulis catalog.

Hook's Point Irrigation also carries a complete line of Toro Ag Products. Check out this Toro Website for a multitude of drip irrigation information
www.driptips.toro.com
Subsurface Drip

We are also associated with Netafim USA, a premier supplier of Subsurface Drip Irrigation (SDI) systems. SDI consists of flexible polyethylene tubing with drippers permanently welded to the inside of wall of the tubing. The tubing system is buried within the soil in rows (typically 40'' to 60'' apart), at a depth (typically 12'' to 18'' deep) suitable for the grower's purposes.

Water is pumped under low pressure from the source through a filtering system to the tubing. The drippers slowly emit specific amounts of water directly to the root zone of the plant. The controlled, precise output of the dripper provides water at a rate that allows the plant to uptake most of the water pumped. And, because water is delivered underground, there is also no loss to evaporation, run-off or wind drift.

The system can also be used to deliver nutrients more efficiently. The end result is improved crop yields with more efficient use of water. To discuss how we can help improve your water efficiency, please contact us today.

Greenhouse and Nursery
Still watering your greenhouse or nursery by hand?
Switch to an automated system and save labor costs with better watering uniformity. We can design a greenhouse system with bedding plant sprinklers, bench pot drippers, and hanging baskets. We can also help design your outdoor nursery with spray or dripper stakes.
To design a system that will work for you, we need the following information: greenhouse or nursery layout and dimensions, available gallons per minute, and water pressure. We also specialize in the installation of your watering needs.
Think of what you could be doing instead of hand watering! Please contact us to discuss your greenhouse or nursery needs.
To access the Netafim USA Greenhouse catalog, click
HERE.
Other Products: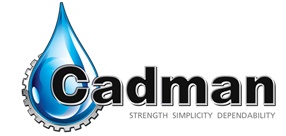 We're proud to be associated with Cadman Power Equipment – a recognized leader in the field of irrigation, nutrient management, and manure handling equipment and design. Please contact us to discuss your manure handling needs.
Go to
www.cadmanpower.com to learn more about Cadman equipment.
Click here to lear more about Kifco.
Learn More
Take a moment to learn about what's new at our company!